What is a Castor Oil Pack?
The VERYWELL OIL™ Castor Oil Pack Wrap is the perfect companion for those who prefer natural remedies. This castor oil pad can be used on the liver or pelvic area to effectively treat a variety of symptoms.
SPECIFICATION
| | |
| --- | --- |
| Plus Size: | Fit for 28″ – 60″ Waist |
| Pocket Size: | 9.8″ L x 9.7″ W |
| Item Size: | 17.5″ L x 9.7″ W |
| Gift Ideas: | Self-Care Gifts For Natural Wellness Lovers, Mom, Grandma, Coworkers, Teacher, Friends, Wife, and More. |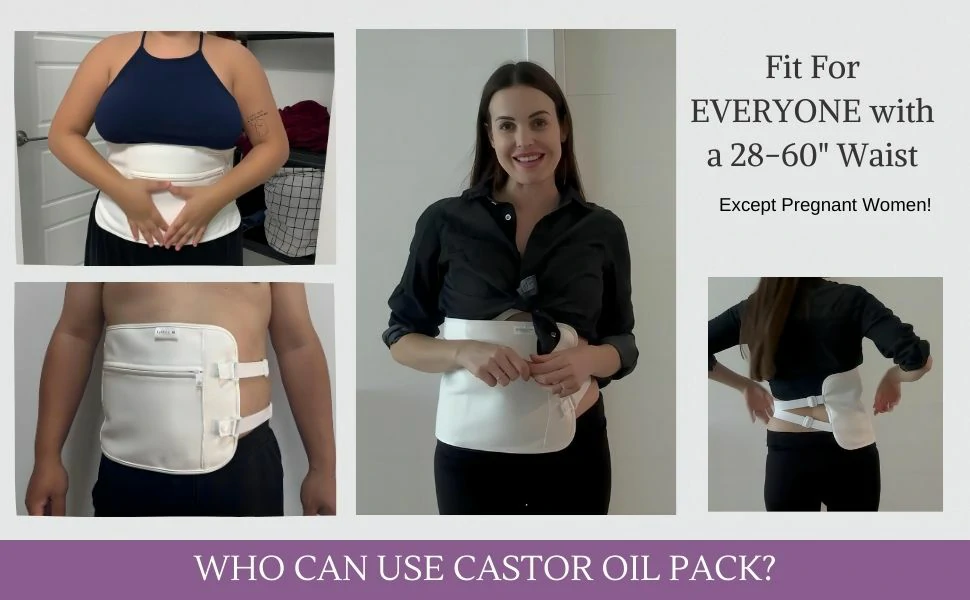 Both men and women confidently wearing our castor oil pack, spanning waist sizes from 28″ to 60″.
It's a perfect fit for all body shapes, whether slim or plus-sized.
| | |
| --- | --- |
| Color: | White |
| Inner Layer Material: | Cotton Flannel |
| Oil Proof Layer Material: | Polyurethane (PUL) |
| Adjustable Straps Material: | Nylon |
How to Use the Castor Oil Wrap for Liver Detox?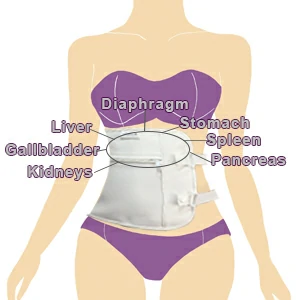 Adjust the strap of the castor oil belly wrap to fit your waist size.
Lay the castor oil liver pack flat with the flannel side facing up.
Apply 1-2 tablespoons of organic castor oil to the top left corner of the compress.
Place the pack on the liver, which is located under the right rib cage, and secure it in place for one hour (or ideally overnight!).
How to use it for constipation?
Using the pack on the abdomen, belly button area, support:
Relieve constipation, Bloating, Inflammation, Leaky gut, et

to some extent, helps you lose weight
How to use for pelvic?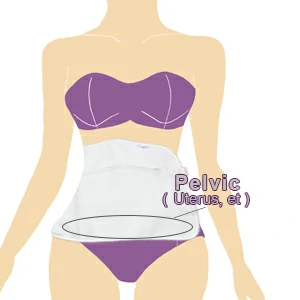 Using the castor oil pack on the pelvic area, support:
Relieve menstrual pain and difficulties

Fertility, fibroids, ovarian cysts, endometriosis, et
NOTE:
Not suitable for pregnant women
Why Use a Castor Oil Pack?
The castor oil patch can be worn on different parts of the body to reap various benefits, such as:
Over the liver, stomach, and kidney area: This helps with liver cleansing and detoxification, lymphatic drainage, kidney stones, hormonal imbalances, gallstones, and more.
Over the belly button and abdomen: It provides relief from constipation, bloating, inflammation, leaky gut, weight loss, and belly fat.
Over the pelvic area: It is beneficial for promoting fertility, managing fibroids, ovarian cysts, endometriosis, and other related issues.
Why Choose VERYWELL OIL's Castor Oil Compress?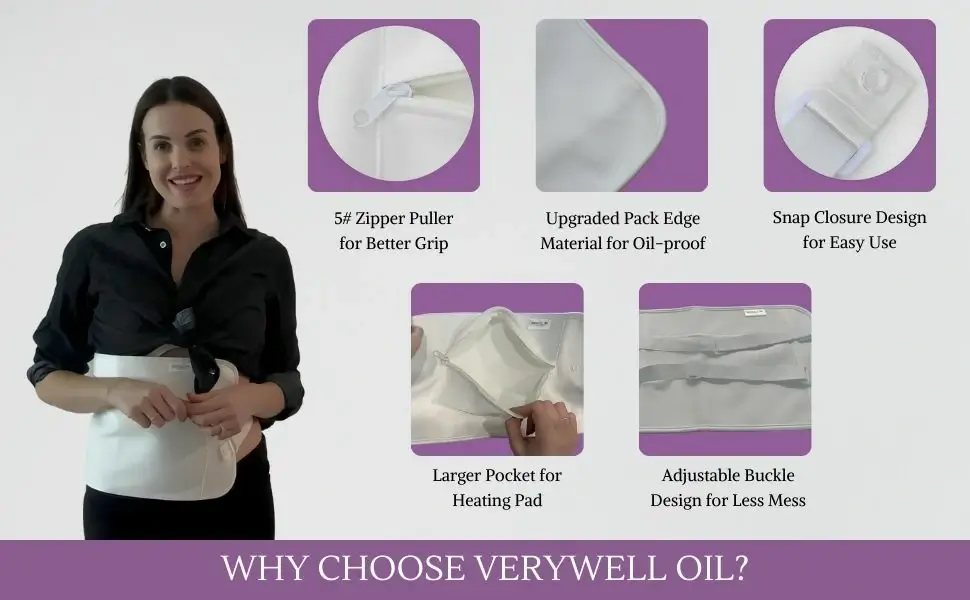 Plus Size: Suitable for waists measuring 28″ – 60″.
Upgraded Pack Edge Design: Minimizes oil leakage and improves the overall durability.
Larger Pocket Design: Offers more space for the heating pack, ensuring maximum effectiveness.
Less Mess: Does not require any extra straps, eliminating unnecessary hassle.
Easy to Adjust: The strap can be easily adjusted by sliding the buckle, providing a comfortable fit for all.
Innovative Snap Closure Design: The snap closure makes it incredibly easy to use and is suitable for a wider range of users.
Who Can Use Castor Oil Packs?
Castor oil packs can be used by individuals with a waist size ranging from 28″ to 60″ with the exception of pregnant women.
How do Castor Oil Packs Work?
Simply wear the castor oil pack on the affected body part based on your symptoms. For detailed instructions, please refer to the accompanying manual.
Note:
Castor oil is not included in the pack.
For detailed information about usage and precautions, please refer to the instruction manual.
COMES WITH DETAILED INSTRUCTIONS
VERYWELL OIL™ provides professional customer service and includes a comprehensive guide with instructions. If you encounter any issues, please do not hesitate to contact our team.